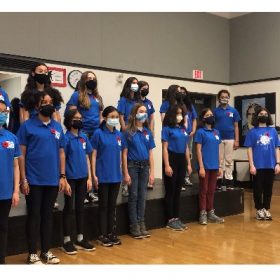 Happy news! The music department is presenting a Winter Concert on December 16, 2021 in the GHMS gym from 4 – 6:30 pm. The concert will feature: Concert Band 6, combined Concert Bands 7 & 8, Jazz Band, Intermediate Strings, Concert Choir, Advanced Choir and Musical Theatre.
Due to the number of people allowed in the gym, only one family member may be in attendance. The concert will have an intermission so families may leave during the break. Please note: this is not our usual practice as we prefer when everybody stays and supports each group.
The concert will be streamed live so family members can also watch. Plus, the concert will be videotaped and we'll make it available for over the winter break to watch at your convenience.
Uniform for band and string students is a solid coloured shirt, non-ripped dark pants (no shorts) or leggings. Winter themed accessories are encouraged.
Choir uniform is blue choir shirts and black pants or leggings, black shoes.
Concert will begin at 4:00pm sharp.  The following groups are performing in the first half of the concert: Combined 7 & 8 Concert Bands; Advanced Choir; Intermediate Strings and Musical Theatre 6 & 7.
Second half features: Choir, Concert Band 6, Musical Theatre 8 and Jazz Band
*Please note: Beginner Strings is not performing at this concert.
One ticket per family will be sent home the week of the concert. The ticket will be needed to be admitted in to the gymnasium.
More details regarding the flow of the concert to follow in the second week of December. Thank you for supporting music in our public schools.
Sincerely,
Ms. Blair, Mrs. Fisher and Mrs. Meadows